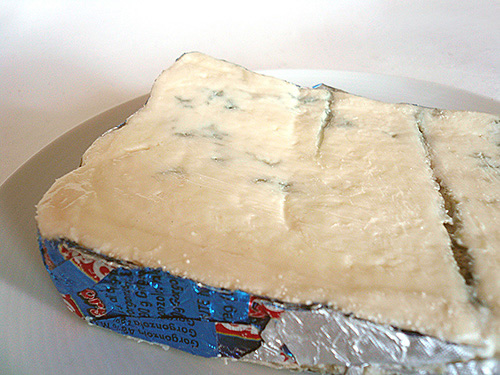 Gorgonzola Dolce
Pasteurized Cow's Milk
AOC (Industrial)
Lombardy, Italy
Gorgonzola, a blue veined cheese from the north of Italy, is a cheese type with numerous varieties but all of them were traditionally made with two milkings. The curd from the milk from the evening milking would be allowed to drain and settle. Warm curd from the next morning's milking would then be added. This process is still practised today, with slight variations. Dolce refers to 'sweet' and is more commonly available than Gorgonzola 'sharp' (also known as naturale, stagionato, di monte or piccante). Gorgonzola Dolce, delicate and sweet, is also softer, milder and not quite as smelly as it's sharp sibling, which offers more of a punch to the nose. It is produced with full fat milk. Try it on crostini, with a drizzle of honey, in pasta dishes, or even in vinaigrette dressing for salads.
---
Click on any thumbnail or [MORE] for a larger image and full description. Available cheeses change on a regular basis. Cheeses listed will not necessarily be available at any given time.

Beemster Extra Old
Pasteurized Cow's Milk
Het Beemsterwapen (Industrial)
Holland
Beemster exhibits the traditional characteristics, [MORE]

Bleu d'Élizabeth
Raw Cows Milk
Fromagerie du Presbytère (Farmstead Organic)
Central Quebec
Bleu d'Élizabeth is an organic, cheese [MORE]

Cantal
Raw Cow's Milk
AOC (Industrial)
Auvergne, France
Cantal, according to Steve Jenkins, (The Cheese Primer), [MORE]

Cape Vessey
Pasteurized Goat
Fifth Town Artisan Cheese Co,
Picton, Ontario
This is a chewy, pungent, cheese [MORE]

Le Chèvre Noir
Low Temperature Pasteurized Goat
Fromagerie Tournevent
Chesterville, Quebec
This internationally acclaimed goat milk cheddar [MORE]

Ciel de Charlevoix
Raw Cow's Milk (artisan)
La Maison d'Affinage, Maurice Dufour, Baie-Saint Paul,
Quebec
Whole milk from a single herd is used [MORE]

Comté Reserve
Raw Cow's Milk
AOC Designation (Cooperative Producers)
Jura Region, France
France's Jura Region, [MORE]

Evanturel
Pasteurized Cow's Milk
Thornloe Cheese (Artisan)
Ontario
Only recently developed, [MORE]

Fleur en Lait
Pasteurized cow
Glengarry Fine Cheeses
Lancaster, Ontario
Fleur en lait, a newcomer [MORE]

Gorgonzola Dolce
Pasteurized Cow's Milk
AOC (Industrial)
Lombardy, Italy
Gorgonzola, a blue veined cheese [MORE]

Grey Owl
Pasteurized Goat's Milk
Fromagerie la Detour (Artisan)
Notre-Dame-du-Lac, Québec
Fromagerie La Detour's newest cheese [MORE]

Gruyère de Grotte (cave aged)
Unpasteurized Cow's Milk
AOC Designation
Switzerland
The medieval town of Gruyères [MORE]

Hercule du Charlevoix
Raw Cow Milk
Laiterie Charlevois
Baie-St.-Paul, Québec
The Hercule is one of Canada's unique cheeses [MORE]

Lankaaster
Pasteurized cow (Holstein)
Glengarry Fine Cheeses
Lancaster, Ontario
According to cheese maker Margaret Morris, [MORE]

Lighthall Tomme
Pasteurized Goat
Fifth Town Artisan Cheese Co, Petra Cooper
Head Cheese maker: Stephanie Diamant
Picton, Ontario
Named after Petra's mother-in-law, Lighthall Tomme [MORE]

Niagara Gold
Pasteurized Cow Milk
Upper Canada Cheese Company (artisan)
Jordan Station, Ontario
An Oka-style, semi-soft cheese, [MORE]

Paillot de chèvre
Pasteurized Goat
La Fromagerie Alexis de Portneuf (Industrial/specialty)
Quebec
This is a soft, surface ripened cheese, [MORE]

Provincial Smoke
Thermalized Cow's Milk
Provincial Fine Foods
Toronto, Ontario
A smooth and creamy smoked cheddar. [MORE]